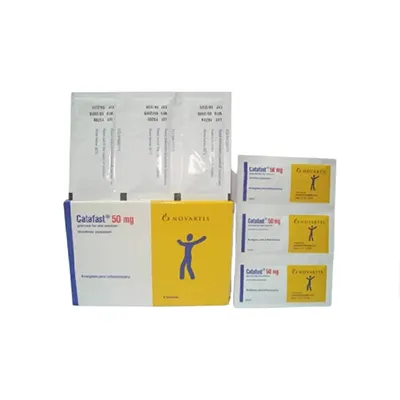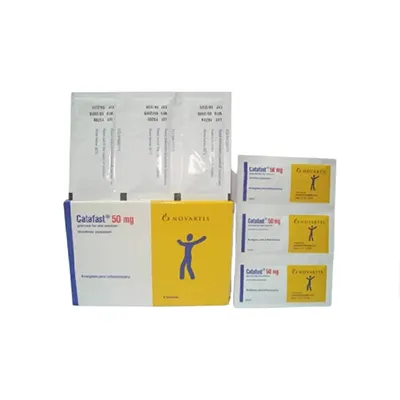 Catafast | Relieves Toothache and Headache | 9 sachets | 50mg
About this product
Ingredients for Effervescent Catafast
It contains the active ingredient diclofenac sodium, which has an analgesic and anti-inflammatory effect.
Indications:
The medicine is used as a pain reliever and anti-inflammatory if:

Rheumatoid arthritis.

Osteoporosis.

Back pain.

Migraine attacks.

Muscle pain.

Shocks.

Tendinitis.

Sprains.

Fracture pain.

Acute gout.

toothache.
Catafast effervescent dosage:
You must check with your doctor or pharmacist before taking this medicine.

The dose of the medicine may differ from case to case.

The usual dose is as follows:

1 to 3 bags per day.

Do not take more than 4 sachets per day.

It is preferable to take Catafast after a meal.
How to use Catafast for headache:
Dissolve a sachet of Catafast in half a cup of water.
The side effects :
Headache and dizziness.

Vomiting and feeling sick.

Diarrhea, stomach pain.

Indigestion, flatulence.

Anorexia.

Skin rash.
Contraindications:
Do not use it if you are hypersensitive to any component of the medicine.

In the case of stomach or intestinal ulcers.

Severe liver or kidney disease.

Heart failure.

In the last 3 months of pregnancy.

Not for use in children under the age of 14.
You should consult your doctor before taking the medicine:
Blood or heart disease.

asthma.

Digestive problems.

Liver or kidney problems.

Taking other medications, such as anti-inflammatory drugs such as aspirin, cortisone, blood-thinning medications, SSRIs, or any other medications.
Warnings and precautions:
You should consult the doctor or pharmacist if you are taking other medicines or suffer from any diseases.

Consult the doctor or pharmacist before using this medicine if you are pregnant or breastfeeding.